Check it up

What is new?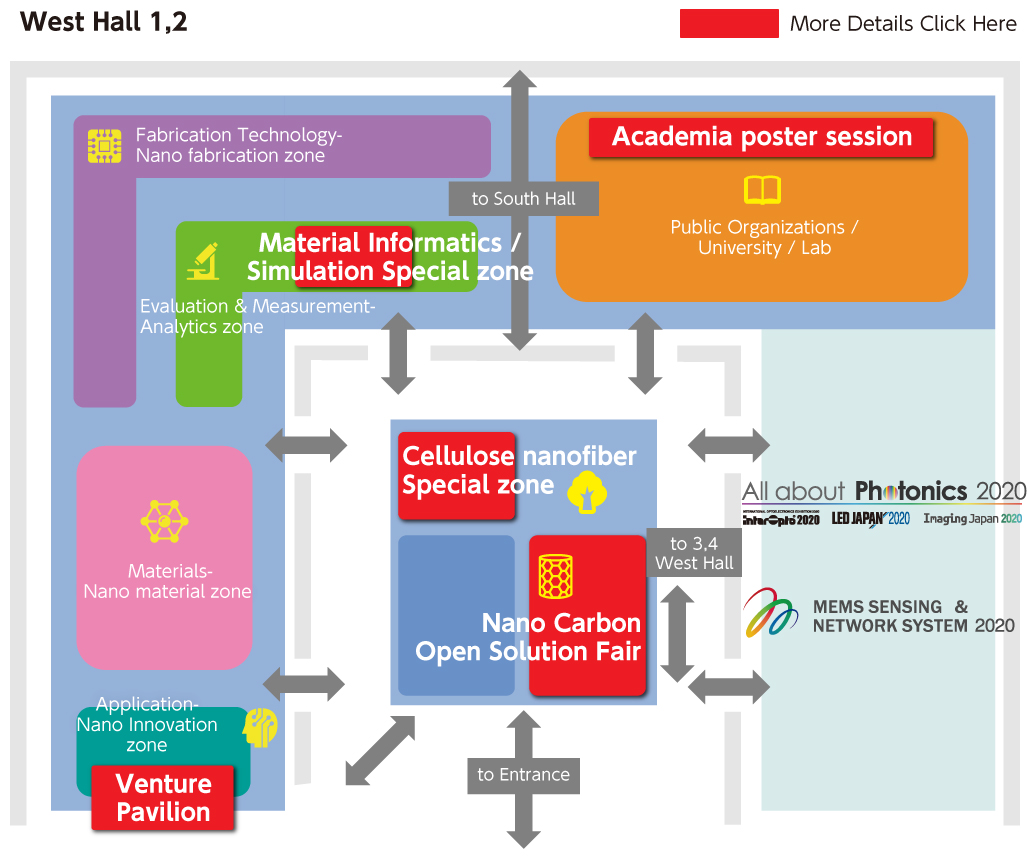 Venture Pavilion
It is said that a venture company is expected to play an important role for "Open Innovation" today. The Ministry of Economy, Trade and Industry and the Small and Medium Enterprise Agency are also focusing on the creation of innovation, and are now calling for the further advancement of venture companies, such as changing from a system for small-and medium-sized enterprises to an R&D-oriented company that includes startups. Venture companies at nano tech 2020 are also exhibiting various technology. Don't miss it.
MI(Materials Informatics)
The development of high-performance materials can be done by simulation. Now that there is a need for speed in development, please experience at nano tech 2020 the latest design technologies that will shorten time and improve functionality. Please obtain more detailed information at on-site seminars.
Nano Carbon Open Solutions
This is the first project, cooperated with Nanotechnology Business Creation Initiative. Can you imagine how far Nanocarbon materials have been developed? With an eye on the development of Next-generation Batteries and other applications, this is a special exhibit that gathers all kinds of information on Nanocarbon, from Nanocarbon materials themselves to composites, processing and measurement technologies, to the presentation of the latest research results.
Cellulose nanofiber
An exhibit specializing in environmentally friendly Cellulose Nanofiber (CNF) has back to nano tech for the first time in a year. The light and rugged materials CNF is beginning to penetrate into our life. Nano Cellulose Forum, a consortium of The National Institute of Advanced Industrial Science and Technology, presents actual exhibitions and technical consultation corners as well as technologies and products by worldwide companies. At the special symposium, will present you with how to make an automobile made from Cellulose Nanofiber.
Academia poster session
"All we need is to increase the number of presentations by young people!!!" This enthusiasm is all beginning to a new project "Academia Poster Session". This zone is composed by only university laboratories. The advantages of looking their research are that they have unique and specialized research contents, and exhibit their latest research. This is a booth for people who want to invest in new technologies and research.
zone_material
Global Partners
Media Partners
Hotel Reservations / Entertainment