Why Exhibit?
1. Approach Leading R&D Specialists
Talk directly to the specialists; 50% of attendees work in R&D and Business Development, and the figure keeps rising! More over, nano tech' s visitors also comprises talented individuals from a variety of industries.
2. The Global Gateway to Open up Your Nanotechnology Business!
nano tech' exhibitors are composed of all over the world and field. Your business on Japanese market start from here!
Exhibitor's industry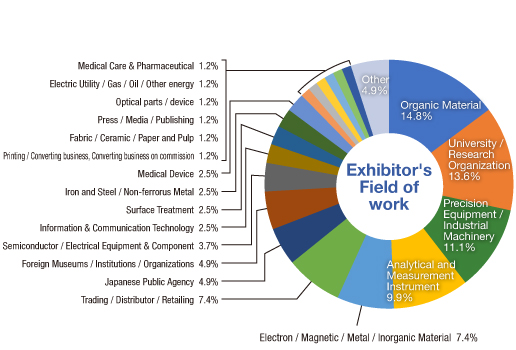 Participating countries
3. Find Your Perfect Partners with the JTB Communication Design Business Matching System
The patented JTB Communication Design Business Matching System (patent no. 5843841) allows participants to easily find new partners and opportunities.

Get in touch with the
Secretariat
for a detailed analysis of attendees at nano tech, including visitors' interests, visitor rankings, and more.
Exhibitor Information
Categories of Exhibits
Materials- Nano material zone

nano particles, composite materials, nano cellulose, carbon nanotubes, nanofibers, nano coatings, nano composite materials, graphene, nano inks, biocompatible materials, photonics materials, Fullerene, nano colloides, high-performance magnetic materials, highly-pure materials, Cellulose nanofibers (CNF), cellulose nanocrystals (CNC), cellulose filaments, bacterial cellulose (BC), microfibrillated cellulose (MFC), cellulose fibrils, nanocellulose composites, and other nanocellulosic materials, Application technologies for ceramics, electrodes, and nanocomposites

Evaluation & Measurement- Analytics zone

electron microscope (SEM / TEM), analysis equipment, evaluation measurement and designing tool, ultra precision measuring instrument, high efficiency / high sensitive sensor, contract evaluation / measurement / analysis service, molecular imaging, simulation / molecular design software, near-field optical, piezo stage, SPM / AFM, micro TAS, Materials Informatics, Simulation and Molecular Design Software, Grain Size and Distribution Measurement, Operand Measurement, Cryomicroscope, Support Tools for Research, Three-Dimensional Measurement, X-ray CT, In-Site Nano Analysis, High Time Decomposition Measurement

Fabrication Technology- Nano fabrication zone

thin film manufacturing technology, nanoimprint, ultra precision surface processing technology, laser processing, inkjet printing, mixing / stirring / dispersing / grinding techniques, precision pattern printing technology, etching, next-generation lithography, electron beam/ion beam processing, contract processing service, nano transistor technology, priming charge processing, fusion/bonding technology, emulsification, adhesion and bonding technology, microdischarge processing, microtransistor technology, cellulose nanofiber processing

Application-Nano Innovation zone

Automotive
Secondary battery
Fuel cell
Solar battery
Advanced sensors
Advanced semiconductor
Artificial intelligence / Deep learning
MEMS / Micromachine
Lightweight material
Cosmetic materials
Regenerative medicine
Wearables
Aerospace
Agriculture
Biomimetics
Quantum technology
venture company
Multilayer ceramic capacitors
noise elimination
flexible platforms
thermal management technology
total solid-state batteries
lithium-ion batteries
Next-generation batteries

Public Organizations / University / Lab

Academia (university, laboratory, industry-academia collaboration) Country professionals, national pavilions, academic societies and associations, public institutions, TLOs, local governments, commerce and industry associations, SME support organizations, international organizations and organizations
Exhibition Fees
Raw Space
1space: 9 square meters (W3m X D3m X H2.7m)
* Side panels are provided for no additional charge when a space borders on neighboring booths. Corner booth spaces include only one side wall.
* The below exhibition fee does not cover costs for booths' installation, dismantling, decoration, cleaning, or waste disposal, nor charges for electricity/water supply and drainage or internet fees.
* Fees vary according to the location of your booth (see below).
Company Area:

¥374,000

(tax included)
Public Organizations / Overseas Pavillions / University Labs Area

¥198,000

(tax included)
Venture Pavilion

¥198,000

(tax included)
Academia poster session
* One poster panel

¥33,000

(tax included)
(Optional) Booth Package
| | | |
| --- | --- | --- |
| Display Cabinet with Sliding Door | W900×D700×H750 | 2unit |
| Reception Counter | W900×D450×H800 | 1unit |
| Fascia Board | H300 | 3m |
| Name Plate | W1200×H200 | 1unit |
| Folding Chair | | 2unit |
| Brochure Stand | A4 vertical size / 12 shelves | 1unit |
| Name Card Box | | 1unit |
| Arm Spot Light | 100W | 3unit |
| Carpet | includeing setup fees | 9m² |
| Electric Supply | includeing electric usage fees | 1kW |
| Power Socket | 2 outlets | 1unit |
| Trash Can | | 1unit |
1 Booth

¥132,000

(tax included)
* Application for Package Booths starts in October 2021.
Speaker Opportunities for Exhibitors
Exhibitors can apply for presentations held in the East Hall
Main Theater

Fee:¥275,000 (tax included)
1 session:45 minutes
Capacity:120 seats, open stage

Seeds & Needs seminar A, B
Fee:¥165,000 (tax included)
1 session:45 minutes
Capacity:100 seats, open stage
■Fee includes:
Screen and projector for computer-based presentations
Audio equipment (2 microphones, speaker)
* If you wish to apply for simultaneous interpreting, please contact us.
■Optional:
Simultaneous interpretation : Ask Secretariat Office
How to Apply
Simply complete the Application Form and send it to the Secretariat by online application form.
1

Deadline for application
September 30, 2021

2

How to pay
The Secretariat will email you an invoice after your application is received.
Exhibition fees must be remitted by the date specified in the invoice without fail.
Failure to pay exhibition fees by the deadline may result in your application being declined.

3

Cancellations
As a rule, applications cannot be cancelled.
Cancellations are accepted only when the Secretariat deems it unavoidable.
In such cases, penalties may be incurred according to the date the written notice of the cancellation is received.
Schedule
September 30, 2021
Deadline for booth reservation
Early October
Pre-briefing session for exhibitors (JP only) / Exhibitor's Manual available
Early December
Dead line of Compulsory Forms;
Booth Construction, Electrical Supply and Rental Lightning Equipment.
October 30, 2021
Deadline for Payment
January 24-25,2022
Move in (booth installation)
January 26-28, 2022
Exhibition