Secretariat of nano tech executive committee
c/o ICS Convention Design, Inc.
Chiyoda Bldg.1-5-18, Sarugakucho, Chiyoda-ku,Tokyo 101-8449, JAPAN
Phone:+81-3-3219-3567
Fax:+81-3-3219-3628
E-mail: nanotech@ics-inc.co.jp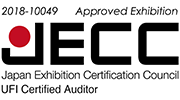 About the Handling of Personal Information

2013 Show Report
Date & Time:

January 30(Wed.) – February 1(Fri.), 2013 10:00 - 17:00

Venue:

East Exhibition Hall 4, 5, 6 & Conference Tower, Tokyo Big Sight, Japan

Organized by:

nano tech executive committee
ICS Convention Design, Inc.

Number of Exhibitors:

587 exhibitors(including 235 overseas exhibitors from 22 countries & regions)/802 booths

Number of Visitors:
(Includes the concurrent exhibition)

Date
Visitors

(Includes the concurrent exhibition)

January 30 (Wed.)
13,779
January 31 (Thu.)
14,110
February 1 (Fri.)
18,957
Total
46,846
Visitors Category
nano tech Awards
What is nano tech Awards?
During the exhibition, the nano tech executive committee selects innovative and pioneering technologies in different categories and awards are presented to exhibitors on the last day of the fair.Award winners are companies, associations, research institutes and universities, which highly contribute to the industry development. The aim of the awards is to encourage the advancement of nanotechnologies.
Selection

nano tech executive committee

Sponsor
Nikkan Kogyo Shimbun Ltd.(Business & Technology Daily News)

nano tech Awards 2013 Winners

Grand Awards 2013

Teijin Ltd

Teijin Ltd demonstrated a range of outlets for nanofibers, spanning an extremely broad range of fields: not only apparel, but also life sciences, low-energy applications, air cleaning and water processing filters, energy, and more. The committee commends the powerful appeal Teijin has made for the high technological potential of nanofibers, together with their broad base of applications.

Category Awards

■ Materials

SHJ consortium

SHJ Consortium developed mass production technology for large-area fabrics and long cables utilizing carbon nanotubes, with the intention of bringing these fabrics to market as an electric carpet in another two years. SHJ's aim is to replace conventional copper cabling with electrical cable capable of conducting current like metallic materials do. The committee commends the strong prospects shown for applications involving large-scale use of nanotubes.

■IT & Electronics

TOSHIBA CORPORATION

TOSHIBA CORPORATION demonstrated next-generation nanotechnology in the fields of storage and energy, having created a graphene compound transparent conductive film, with performance equivalent to the metal electrodes and ITO currently in use. Using superconductor technology, communications components will also soon see practical implementation. The committee commends Toshiba's outstanding worth as an IT and electronics corporation fit to represent Japan.

■ Nano Fabrication Technology

Research Society for Biotemplate Technology (ERATO Iyoda Project)

The Research Society for Biotemplate Technology (ERATO Iyoda Project), a research organization comprising universities, public research institutions, and corporations, is developing technology to create electronic components using the minute and complex structure of microorganisms as templates. The committee commends these efforts to realize large-scale reduction of energy consumption by partially replacing conventional microfabrication technology with new technology.

■ Evaluation and Measurement

KEYENCE CORPORATION

In recognition of the KEYENCE CORPORATION's development of a new-principle digital microscope with ultrahigh resolution and a form-measuring laser microscope capable of both high-resolution observation and form measurement, the committee commends Keyence's contributions toward evolution of technology for measurement and analysis of nano-structures and nano-materials.

■Green Nanotechnology

FUJIFILM Corporation

FUJIFILM Corporation demonstrated a wide variety of unique low-energy and low-resource technology exhibits, including flexible thermoelectric conversion modules capable of utilizing waste heat and deployable in a range of handy locations, as well as a dye-sensitized solar cell with a world-leading efficiency rate. The committee commends the development of technology contributing to building a sustainable society.

■ Life Nanotechnology

Hitachi Chemical Co., Ltd.

Using materials highly compatible with living organisms, Hitachi Chemical Co., Ltd. has developed transparent sheets 50 to 100 nanometers in thickness, which can be affixed to the skin without adhesives. Hitachi Chemical is currently pursuing further applications such as moisture-retaining cosmetics, adhesive dressings for wounds, and more. The committee commends these proactive efforts in the field of life sciences, including future initiatives such as the addition of antibacterial functions.

■ Special Award

NANOTEC, THAILAND

In recognition of NANOTEC, THAILAND's contribution to functionality achieved through nano-coatings, the committee commends its development of the nanotech products for which Thailand is notable, such as nanotech mosquito nets with enormous efficiency in repelling mosquitoes, as well as environmentally friendly nano-bacteria/cellulose compound films to replace leather and fabric, and more.

NanoMaterials Technology Pte Ltd (Singapore)

NanoMaterials Technology Pte Ltd has successfully developed zinc oxide, cerium oxide, and antimony-tin alloy nanoparticles. The committee commends the establishment of independent technology capable of manufacturing nanoparticles, with a tiny particle size making them extremely dispersible in liquids, as well as the potential this opens up for applications across a broad range of fields, such as diesel fuel and cosmetics.

■ Research Project

NEDO "Development of Materials and Process Technology for Advanced Printed Electronics"

Over the previous two years, NEDO has facilitated industry-academic-government collaboration to establish a research and development system enabling the practical implementation of technology to create electron devices using printing methods. The aim is to develop flexible electronic paper, pressure sensors, and similar technologies. The committee commends these efforts to launch technologies contributing to the creation of new markets.

NIKKAN KOGYO SHIMBUN Award

Life-Science Products Development Project in Kagawa

The Faculty of Engineering at Kagawa University, now in its 15th year, is moving ahead with a joint research project with the Faculty of Medicine into applications of state-of-the-art MEMS technology in the medical field. The committee commends these contributions to medical care through MEMS technology, as well as efforts to revitalize the region and to strengthen local manufacturing.