For Visitors
*One registration for all concurrent exhibitions
Frequently asked questions(PDF)


Secretariat of nano tech executive committee
c/o ICS Convention Design, Inc.
Chiyoda Bldg.1-5-18, Sarugakucho, Chiyoda-ku,Tokyo 101-8449, JAPAN
Phone:+81-3-3219-3567
Fax:+81-3-3219-3628
E-mail: nanotech@ics-inc.co.jp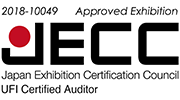 About the Handling of Personal Information

Date
Weather
Visitors
(Includes the
concurrent exhibition)
January 28 (Wed.)
15,121
January 29 (Thu.)
16,323
January 30 (Fri.)
16,205
Total
47,649
Spain nanotechnology at nano tech 2015 (Tokyo, Japan)
The Phantoms Foundation and ICEX Spain Trade and Investment, in cooperation with the Embassy of Spain (Economic and Commercial Office) in Tokyo bring together, for the eighth time, a nanoscience and nanotechnology Pavilion at nano tech 2015 (Spanish Pavilion - East Hall 6/Booth 6P-23). >>More Details
2015.1.21
---
Shin-Etsu Chemical Co., Ltd., the No.1 silicone manufacturer in Japan and one of the leading firms in this industry worldwide, exhibits Liquid Silicone Rubber UV Cure type (PMDS) and Spherical-Silica Fine Particles.
In 1953, Shin-Etsu Chemical became the first firm in Japan to venture into the silicones business. In the decades since, Shin-Etsu has created a diverse line of products designed to exploit the unique and useful properties of silicones. Today, our offerings include over 5,000 products that meet user needs in a wide range of industries, including electric/electronics manufacturing, the construction industry, the auto industry, cosmetics and toiletries, and the chemical industry. >>More Details
2015.1.21
---
OCSiAl's breakthrough technology for the mass production of SWCNTs.
OCSiAl has built a facility for the mass production of single wall carbon nanotubes at a price which is hundreds of times cheaper than anything else available or promised on the market. >>More Details
2015.1.21
GlobalPartners
Media Partners