Secretariat of nano tech executive committee
c/o JTB Communication Design, Inc.
Celestine Shiba Mitsui Building, 3-23-1, Shiba, Minato-ku, Tokyo, Japan 105-8335
Phone:+81-3-5657-0760
Fax:+81-3-5657-0645
E-mail: nanotech@jtbcom.co.jp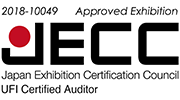 About the Handling of Personal Information

Seeds & Needs Seminar
Presentations / Special programs in the exhibition hall provided by exhibitors or organizer.
Fee

1 session - 45 minutes

A/C/D ¥157,500 (tax included)

B ¥283,500 (tax included)

*With Simultaneous Interpretation

Space for presentation
100 seats
*A simultaneous interpretation system will be provided on request.
(charged option)
[Price includes]
Screen and Projector for computer-based presentations
Audio equipment (2 microphones, speaker)

Simultaneous interpreting English-Japanese (Seminar B only)

*Exhibitors can manage front desk, program within the booked slot(s) and distribution of prints to the audience

*Program and presentation abstract will be advertised on the exhibition website

*For narrators, hostesses etc. please contact us.
[How to apply]
Applications will be accepted on a "first-come-first-served" basis.
Please choose available slots from the schedule shown on the exhibition website.
Please send the application form to the secretariat by FAX.
Program
*The program is subject to change.
Seeds&Needs Seminar A
nanotech ASTEC SURTECH 3D Printing Printable
 
January 27(Wed)
January 28(Thu)
January 29(Fri)
10:30-11:15
NORITAKE
11:25-12:10
Oxford Instruments
Bruker AXS
12:20-13:05
Hamamatsu Photonics
Kyowa Interface Science
13:15-14:00
Ashizawa Finetech
Nihon Rufuto
OTSUKA ELECTRONICS 
14:10-14:55
Kyowa Interface Science
AIMEX 
15:05-15:50
City of Kawasaki
NAGASE
Springer Japan
16:00-16:45
Seeds&Needs Seminar B
nanotech ASTEC SURTECH 3D Printing
 
January 27(Wed)
January 28(Thu)
January 29(Fri)
10:30-11:15
Graphene Special

*en/jp interpreting

American State Office Association (ASOA)
11:25-12:10
12:20-13:05
13:15-14:00
EU-JAPAN CENTRE FOR INDUSTRIAL COOPERATION 

*en/jp interpreting

SHIMADZU
14:10-14:55
Embassy of Italy-
Trade Promotion Office
Tekna Plasma Systems
15:05-15:50
16:00-16:45
MICC TEC

*en/jp interpreting
Seeds&Needs Seminar C
nanotech ASTEC SURTECH 3D Printing
 
January 27(Wed)
January 28(Thu)
January 29(Fri)
10:30-11:15
11:25-12:10
TOYO HITEC 
12:20-13:05
KLV
Park Systems Japan
13:15-14:00
MicrotracBEL
Okayama University
Osaka University
14:10-14:55
Japan Agency for Marine-Earth Science and Technology (JAMSTEC)
15:05-15:50
Malvern Instruments A division of Spectris
16:00-16:45
Seeds&Needs Seminar D
nanotech ASTEC SURTECH 3D Printing
 
January 27(Wed)
January 28(Thu)
January 29(Fri)
10:30-11:15
Robo
3D
PRISMADD JAPAN
11:25-12:10
BeAM
12:20-13:05
iWing
13:15-14:00
TECHNO solutions
14:10-14:55
Altech
15:05-15:50
Sentrol
16:00-16:45