Secretariat of nano tech executive committee
c/o ICS Convention Design, Inc.
Chiyoda Bldg.1-5-18, Sarugakucho, Chiyoda-ku,Tokyo 101-8449, JAPAN
Phone:+81-3-3219-3567
Fax:+81-3-3219-3628
E-mail: nanotech@ics-inc.co.jp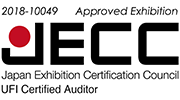 About the Handling of Personal Information

Global Partners
Media Partners
What's New
2013/9/4

Business Matching page is now available.

2013/3/21

Website is relaunched.

2013/3/1

Our last edition, "nano tech 2013" has been certified as an international exhibition by Japan Exhibition Certification Council.